Today was the last day of Brendon Burchard's Life's Golden Ticket in Long Beach. In this post I would like to give a short review of my experiences. Life's Golden Ticket was a 3 day event (Fr-Su). I was only able to attend on Saturday and Sunday, so I won't be able to report about the first day.
The location for the event was a circus tent at the Long Beach shoreline village. The location itself was already very different than most self-development seminars and the circus tent gave the event a very different atmosphere. I have to say I liked this ideas since it made the whole seminar more fun and entertaining. This approach of mixing entertainment with education is a great idea.
The two days I visited the seminar provided a lot of great information. Brendon talked about overcoming your fears and getting rid of the herd mentality that so many of us have. He also talked in depth about his secrets of getting Fortune 500 companies and large non-profit organizations to sponsor you and work with you on your project. This was some truly amazing information.
One of the great elements of this event was that the circus tent belonged to an actual circus and the members of the circus performed their shows in between the speakers. This was really cool. Hearing these inspirational people and seeing a great show. A truly unique experience.
Brandon invited a lot of great speakers to his seminar. One of them was Bill Harris from the movie "The Secret" who talked about the importance of dreams and monitoring your thoughts. Another speaker was John Gray the famous autor of the bestseller "Men Are from Mars, Women Are from Venus". His presentation was very educational and at the same time hilarious funny. He explained in great detail why men and women act in different ways and what the sexes need to do to reduce their stress and live a more full filling life together. His information was especially great for women since they learned how to loose weight the easy way without going on a diet.
Also present at the event was Marianne Williamson who was also featured in "The Secret" movie. She gave some great information about the importance of spirit and meditation and opened my eyes in these aspects.
Next to the great shows and information at this seminar I also met some truly great people, such as Ken McArthur the author of the book "Impact: How to Get Noticed, Motivate Millions, and Make a Difference in a Noisy World" and the amazing Jeff Wellman from layoffyourboss.com.
Ken has started a truly inspirational project to raise awareness for the problem of teen suicide and help to save thousands of lives! His Impact Action Team did a great job speaking up for this cause at the Life's Golden Ticket event.
All in all this was a truly great event. An amazing combination of eductaion, entertainment, networking and raising awareness for a good cause. Bendon is a great inspirational teacher and I am sure I will be back at one of his future events.
Sep 22 2008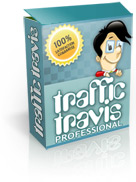 Today I want to talk about a cool new free software that I have been testing for the last 2 weeks . It is called Traffic Travis and it is very useful for keyword and competitive research.
One thing I really love about this software and that stands out from all the other free keyword tools is the option to find competitors PPC ads. Since I do quite a bit of PPC this helps me a lot to analyze the competition and fine tune my ads.
Another great functionality is the backlink analysis, so you can see who links to your website or the competitors website. You can even see the anchor tags that other websites use to link to you or your competitor.
Additional to all the keyword, traffic and competitor analysis Traffic Travis also includes a ranking checker, so you can see where you rank in the search engines for your keywords. Altogether this free software has a nice set of functions that can be very helpful. I have to admit the logo is a little bit cheesy, but this might be a hint for all the online marketers and seo experts to loosen up a little and take things with humor.
If you are marketing online keyword research is a vital part of your business, so any tool that helps to make this easier is great. Check out Traffic Travis for yourself.
Sep 14 2008
I just got an email last week with a link to Eben Pagan's new project. Eben Pagan is a very successful and respected online marketer and his new program, is about time management.
I was always aware that time management is a crucial factor for success. However I also always struggled with this aspect of my business and life. If you don't know how to manage your time it can be a very stressful and frustrating experience. Especially with the many distractions that the Internet has for us it can be hard to focus on the things that are really important.
Eben's time management strategies are on point and I learned quite a bit from this video. To view it click here.
The main points I took away from this video are:
1. Be persistent in what you do
2. Take at least 2 hours to focus exclusively on one thing
3. Remove distractions (email, phone, interruptions etc.)
4. Develop routines
5. Take time to recharge
I am already working on implementing some of these strategies. I am checking my email less often and allow myself to focus only on one thing. I also started with a morning routine. This is difficlut for me since i am not a morning person, but I will go step by step. For now I started working out for 30 minutes every morning.
Another thing that Eben didn't mention is to make a list every day with all the things you want to do and work on it by importance. Another thing is to track your time, to see what you spend the most time on. I wrote about a great tool for this in another post.
I am very interested in time management and increasing my productivity and I am looking forward to the next video from Eben to see what other strategies he recommends.
Sep 8 2008
On Friday was the grand opening of Sprouts, a new health food store, here in Seal Beach. Of course I had to check it out, to see what they would offer and if it would be comparable to other stores. I was especially hoping that they would carry raw milk, which is hard to find here in Orange County.
The first impression of the store was good. A lot of space, very clean, and a lot of fresh produce. The look of the store is comparable to a whole foods store. However the prices are a little bit lower. The best thing however was that the carry raw milk. I was very happy to find this out since I was driving all the way down to Huntington Beach to Mothers Market to get my milk. This will save me a lot of gas and make shopping for milk way more convenient.
The store also has a great selection of fresh fruit and vegetables. I was also looking at the meat and fish and both looked very good and fresh. They have organic and all natural chicken and meat. The only thing I don't like is the big candy selection in the middle of the store. I guess they do this because candy sells good to kids and is a money maker. However I would prefer less candy in a health food store. But then again I don't have to buy it.
My wife and I had a great time shopping at Spouts and it looks like this will be our new regular store. We will probably no longer drive to Whole Foods or Mothers Market, since we get all the products we need here. We are still going to Trader Joe's and the farmers market though. Produce and prices there are just too good.
Aug 31 2008
Here is my report from my wedding/honeymoon/vacation in Maui. First of all I have to say that Maui is a wonderful place. My wife and I had a great relaxing time and a wonderful wedding ceremony.
We stayed in a beautiful condo in South Kihei which has the most amazing beaches on the island (and also the most sunshine). During our time in Maui we also rented a car and explored the island on our own. I can only recommend Maui to anyone who loves the beach and warm tropical weather. Here are my top Maui picks. All these places can be easily explored by car (and you don't need a 4W drive either).
1. Road to Hana
The road to Hana is one of the great driving tour on Maui. The landscape is amazing with beautiful views over the rugged windward side of the island. During the drive there are many waterfalls and hiking opportunities to explore the rainforest. We used the book "Maui Revealed" as our guidebook and for the most part the places that they recommend are fantastic. However we noticed that some of the waterfalls didn't have a lot of water and one was even dried out.
One of the main beautiful waterfalls on the road to Hana.
The waterfalls are definitely one of the highlights of the road to Hana. Swimming below a waterfall is a great experience. I recommend for anyone to bring reef shoes, since the ground below the waterfall can be very slippery and ruff. Also you can't really see the ground once you are in the water (the water is very cold by the way, but also refreshing).
Scenic views on the road to Hana.
Many waterfalls require a short hike in the rainforest, so if mosquitoes like you bring some good bug-off. The drive can be difficult sometimes. The road is narrow and curvy and requires a lot of breaking. Hana itself is not very spectacular and we didn't find a good place to eat. It might be a better idea to stop at one of the local places at the road that offer BBQ, than try to find an actual restaurant. After Hana the rainforest stops and you can find some good beaches. We had planned to travel around the east side of the island by car, but found out that the road was closed due to an earthquake that happened in 2006. As you can see on the picture there was no other way to go but turn around, since this was the only road. Unfortunately we had not planned to drive all the way back along Hana, so this part of the trip was so pleasant. I definitely can't recommend driving the road to Hana by night, so get back early enough!
2. Haleakale crater
This is the main crater of Maui with an elevation of over 10,000 feet. It is quite a drive up there, but the road is nice and smooth and easier than the road to Hana. The mountain is often surrounded by clouds, but once you are high enough you leave the clouds behind and it gets sunny again. The air up there is very thin and you should bring a sweater since it's cool and windy. There are some good hiking trails up there and on a good day you can see the big island.
3. South Maui lava fields and secret beaches
One day we drove all the way to the end of the road in South Maui. We left the car at Perouse Bay and did a nice hike through the lava fields. You are basically surrounded by lava and the path is quite ruff. Bring good shoes and sunscreen, since there is no shade. It took us around 1 hour and 30 minutes to get to a beautiful hidden beach with great snorkeling. This is a wonderful hike to start early in the morning, you have to watch the trail though, since there are not many signs to navigate by.
4. Blowhole and west Maui drive
The drive around west Maui is a must if you visit the island. Lahaina offers great shopping and an historic town. Further up north you find some very nice beaches and amazing scenery with a rugged coastline. One of the highlights for us was the Nakalele blowhole. A short hike from the parking lot the ocean presses water up this hole in the rocks and creates some amazing fountains. A great place for a salt water shower, which can be quite refreshing on a hot day. The road around the Westside is very narrow with a one lane street along the coastline, so I recommend driving very careful.
5. Snorkeling with the turtles
You don't have to take an expensive ocean tour to snorkel with the turtles. We actually found that the turtles like to be close to the beach and can be watched easily while snorkeling. We saw the most turtles while snorkeling at Maluaka beach next to the Maui Prince hotel. This is only a short drive from Kihei and this beach is most of the time not very crowded. It's good to arrive early though, since the wind starts to get rough around noon.
Of course there are many more great places to see and also we haven't taken any of the tours to the neighboring islands. We definitely plan to come back and explore more of Maui's beauty.
Aug 7 2008
I will take a break from the online world for the next 10 days and relax on the beach in Maui. Also my wife and I will renew our vows on Saturday. It will be a small and intimate ceremony with our closest friends and family. I am very excited to go to Maui, since I haven't been on vacation for a while. I heard a lot of good things about Maui and we have been to Oahu before and loved it.
If I find a internet cafe in Maui I might post a quick update, but so far it looks like a online free time for me.
Aloha!!!
Jul 31 2008
Immediately after the Los Angeles earthquake of July 29th 2008 people started to report about their experience on Twitter (including myself). Once again the news spread faster on the net than through all traditional media channels. Finally the media caught up and earthquake news were live on all channels for the rest of the day. From an online marketing perspective this was interesting to me since an event created a fast buzz that spread like a viral marketing campaign.
I was wondering how large the effect of the earthquake was on Google searches that day and user behavior in general. Here are the results:

Keyword "Earthquake" on Google

Keyword "Earthquake California" on Google

Keyword "Earthquake Los Angeles" on Google
All these examples show that searches about the earthquake shot up the day of the event, while before the event there were almost no searches at all. So how is this relevant? I think this show very nicely how a large event (for example a product launch in online marketing or a press release) can create an enormous buzz in a very short time.
The buzz gets bigger since more and more users use social media to communicate it. If your business sells earthquake related products like preparation kits this would have been the perfect opportunity to generate large amounts of traffic in no time.
Of course we can't predict events like this, but to me it shows how important it is for companies to constantly monitor online conversations and have plans ready if event happen. This way you can leverage outside news and events to advance your business and in this case to help people be better prepared for earthquakes.
This might also be relevant to SEO, since "in case" optimization would ensure that your website comes up in the top results for event related keywords. If your product can help people I believe this would be a great way of event related marketing.
Btw I found some really good (and free) information on the subject. Here are some good links about earthquake preparation:
The Earthquake Preparedness Handbook
www.redcross.org/services/prepare/0,1082,0_241_,00.html
Jul 26 2008
Last week was a very interesting week when it comes to social media marketing. It seems like 2 new heavyweights of social media are emerging, Twitter and Squidoo. Since I joined Twitter in June the buzz has been getting bigger and bigger. Twitter has seen an immense increase in new members and all big names of online marketing are catching up too.
This has also causes major issues like long periods of downtimes (the whale). Last week a major breakdown occured when all over sudden peoples followers were deleted and nobody was able to use Twitter for a whole day. Since Twitter lives by a constant stream of new messages this caused quite an uproar in the Twitter community.
Despite the trouble Twitter is still a great tool for networking and online marketing. If you have considered joining Twitter there couldn't be a better time. For starters 2 new free Twitter guides were published last week. One is an ebook by Joel Comm and the other a video guide by Harris Fellman. Both seasoned internet marketers.
For advanced twitter users Twitter Squeeze opened is doors. This membership site shows Twitter users how to be more effective on Twitter and how to use it as an effective online marketing tool. Since the price is $20 until the end of July (it will go up after that) it was a no brainer for me to sign up. So far the content is great and I am very excited to learn more advanced Twitter marketing strategies.
Another social media site that is gaining momentum in the online marketing community is Squidoo. Squidoo is a great site where users can publish free webpages (lenses) without any html knowledge. This website is especially good for targeting long tail keyword phrases in the organic search engine rankings. I haven't really used Squidoo a lot even if I knew how effective it is. I just wanted to make sure I wouldn't waste my time. Well last week another great ebook was released that finally answered all my questions about Squidoo and also offers a step by step manual how to effective market on Squidoo. The ebook is called "The Secret Cash Machine On Squidoo" and I can recommend it to anybody that wants to learn how to use Squidoo to make money online.
With all these new developments in social media marketing I am curious to see what comes next. If you want to follow me on Twitter click here.
Jul 21 2008
The last weekend in June it was Viva Las Vegas for Patrina and me. Well it was not exactly your typical Vegas trip (even we have done that before). This time we went for a marketing seminar called "Renegades of Persuasion" that was hosted by Dave Lakhani. I found out about this seminar a couple of weeks ago. I have to admit that the main reason for visiting this seminar was that it was free (We only had to buy Dave's book to attend). Before this seminar I had never heard of Dave or any of the speakers that attended the seminar.
I have to admit that I was a little skeptical in the beginning that this would be just another of this full-time-sales presentation seminars. This was totally not the case. The 2 day seminar started Friday morning right after breakfast. It went on for the whole day till around 9 pm in the evening. It continued on Saturday morning and went on all day as well.
The seminar was an amazing experience and we learned a lot about marketing and beeing successful in business. Here are some of the amazing speakers that attended and I encourage anybody to check them out. Most of them have also published books which can be found on Amazon:
Joel Bauer - effective selling, public speaking, personal presentation
Kevin Hogan – marketing, body language, psychology
Dave Lakhani – persuasion, marketing
Rachna D. Jain – social media marketing
Ben Mack – marketing, branding
Joost Van Der Leij – nlp, personal development
I took great wisdom from all of these speakers. The collective knowledge at this seminar was amazing and opened our eyes to totally new ways of marketing and persuasion. I just finished organizing all my notes from the seminar and already started implementing some of the techniques I learned. Dave promised to have another seminar next year and we already know that we will go. One of the things I am working on is building my personal brand and using social media to build a network of like-minded individuals.
For everyone that wants to learn more about Dave and his teaching I recommend his book "Subliminal Persuasion: Influence & Marketing Secrets They Don't Want You To Know".
Jul 6 2008
Just in time for my vacation in Hawaii in August I found out about a study that evaluated over 1,000 sunscreen products for effectiveness and potential health hazards. I was shocked to learn that so many name brands are full of dangerous chemicals and only offer minimal protection. Click here to see the full list. Additional to the top ten list you can also download a free pdf with the most important facts about the study. I will look into the top ten products and see which one I will use for my Maui vacation. I got sunburned pretty badly last time I was in Hawaii, so this is an important issue to me. If your skin ever hurt so much that you couldn't sleep you know what I mean…