New Free Keyword Research Software – Traffic Travis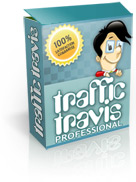 Today I want to talk about a cool new free software that I have been testing for the last 2 weeks . It is called Traffic Travis and it is very useful for keyword and competitive research.
One thing I really love about this software and that stands out from all the other free keyword tools is the option to find competitors PPC ads. Since I do quite a bit of PPC this helps me a lot to analyze the competition and fine tune my ads.
Another great functionality is the backlink analysis, so you can see who links to your website or the competitors website. You can even see the anchor tags that other websites use to link to you or your competitor.
Additional to all the keyword, traffic and competitor analysis Traffic Travis also includes a ranking checker, so you can see where you rank in the search engines for your keywords. Altogether this free software has a nice set of functions that can be very helpful. I have to admit the logo is a little bit cheesy, but this might be a hint for all the online marketers and seo experts to loosen up a little and take things with humor.
If you are marketing online keyword research is a vital part of your business, so any tool that helps to make this easier is great. Check out Traffic Travis for yourself.